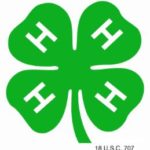 Tennessee 4-H encourages diverse groups of youth to develop their unique skills and talents to the fullest potential. Young people participate in 4-H through clubs, special interest groups, after-school programs, camps, and many other activities. "Learning by doing" through hands-on activities and community involvement empowers 4-H'er's to develop and strengthen life skills.
4-H is a family affair. This includes the parent-child relationship and the extended family of community and state. It is a unique blend of government, private business, and volunteers working together to broaden the horizons of Tennessee's young people. 4-H is fun for both child and adult. 4-H is for YOUth!
4-H Pledge
I pledge my Head to clearer thinking,
my Heart to greater loyalty,
my Hands to larger service,
and my Health to better living, for my club, my community, my country and my world.